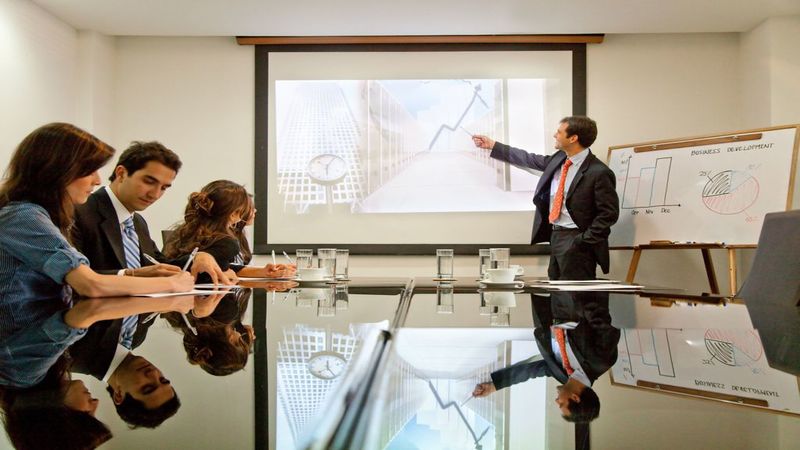 When you walk into a retail store in Houston, you know from the layout of the store whether it's an upscale store, a midrange store, a discount store or a no-frills, bulk purchase store. What may not be as obvious to you is that the layout of each type of store has been planned based on the same underlying principle. The people who plan the store layout for each store consider what appeals to the customers in that store's market, and then they optimize those features and the layout of the merchandise to maximize the sales from every last square foot of the store's sales floor.
Retail Space Management and Office Space Management
As an office manager, you may be thinking that office space isn't a sales space. Office space is optimized to maximize the ease with which office workers can complete their work. The principle behind how office space is arranged is worker productivity, not sales.
Think of all the square feet of space in your office layout, though. Most offices have a space or spaces for conference rooms that sits empty for much of each day and possibly for several days a week. The lights may not be on in that space when it's not in use, but it is still heated or air-conditioned as needed. Those conference rooms contain tables and chairs, and they may also contain a sound system and audio-visual equipment for presentations. That space, furniture, and equipment is necessary at times, but it's underutilized most of the time. The energy used to heat or cool it is, most of the time, and un-recouped expense.
Increasing Your Office's Income from Under-Utilized Meeting Rooms
Just as a retail store seeks to maximize income from every square foot of sales space, so you, as the office manager, can maximize the income for your under-utilized conference rooms.
How?
Many people in Houston and elsewhere are starting small businesses in their homes, working as freelancers online, or taking part in the "gig" economy. Depending on the type of business, freelance work, or gig in which they are engaged, they may find that they need a space for short meetings with clients. Inviting a client to meet in a home undermines the professional image of the business. Hotel meeting rooms are available, but they also are expensive. Constantly meeting clients for lunch or coffee can become expensive, and clients may begin to wonder why the meeting never occurs in an office conference room.
By renting your conference rooms by the hour for a small fee to the small-business owners, freelancers, and gig workers in your area, you begin to turn them into income producing space. At the same time, you provide a needed service to small-business owners, freelancers, and gig workers that may benefit your business through word-of-mouth, not only for the availability of your meeting rooms but also possibly for the main business of your company.
As the office manager, though, you likely don't have time to seek out Houston's small-business owners, freelancers and gig workers, and you likely don't want to invest money in advertising your meeting rooms. You can, however, list your conference rooms for rental in Houston, TX, with a business in Houston that already provides virtual office services to small-business owners, freelancers and gig workers.
If you have an underutilized conference room rental in Houston, TX, contact us. We provide virtual office services and list conference room rental in Houston, TX area, for small businesses, freelancers, and gig workers in the Houston area. We will be happy to help you turn your underutilized conference rooms into income producing spaces for your office.
For more information, visit Sage Workspace.