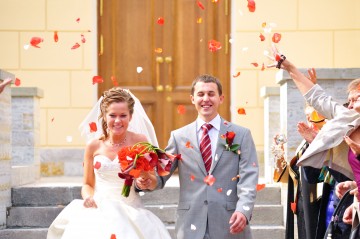 Your wedding is one of the most important days of your life so you'll likely want a qualified photographer to capture heartfelt moments from your special day. ColorBlast Weddings has you covered. The photography team will listen to your preferences and needs and create photos you can look back on fondly for years to come.

Of course, you may want a photographer to take engagement photos of you and your spouse-to-be. You'll have to work with a professional to capture the moment when you ask your sweetheart to marry you, or you and fiance can take pictures that characterize who you are as a couple. For instance, you can take fun, candid photos wearing jerseys from your favorite California sports team. Or, you can wear formal clothing and pose outdoors for pictures that are both classy and carefree.

If you need a destination wedding photographer in California, you can work with the ColorBlast Wedding team to capture the features that make California stand out. Whether you want pictures that feature the sunny weather, beaches or colorful flowers in the state, let your photographer know your preferences so your photo album will feature the textures and color combinations you want. ColorBlast Weddings also takes pictures of weddings from all over the world. This makes it easy to showcase the colors and natural lighting from several different countries to indicate your cultural pride and the merging of two families.