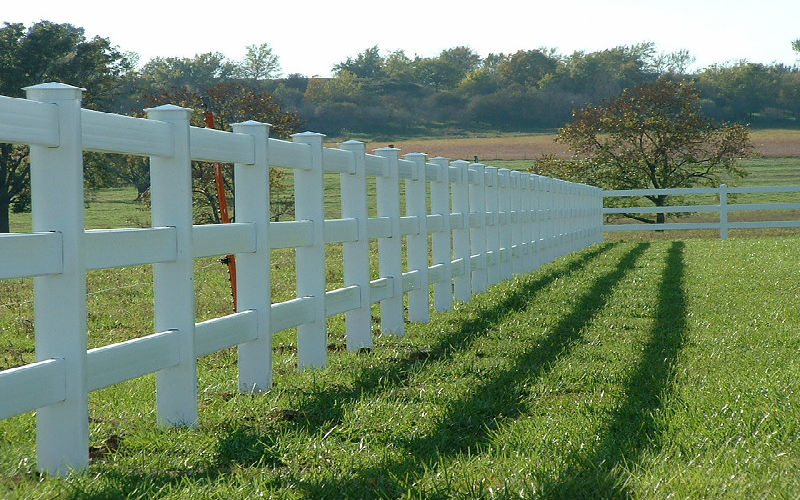 Vinyl fencing is an excellent choice for your home, your business, or to form a pool enclosure. Not only is installation quick and straightforward, but it is also extremely easy to maintain afterward. There are plenty of options when it comes to fencing. Wood and chain-link are popular, and will no doubt, remain that way. However, in recent years, vinyl fencing has become increasingly prevalent. Vinyl fencing was first introduced in the mid 20th century. It is only in the last few decades that homeowners and business owners have come to realize its many advantages; low cost, low maintenance, and the material is recyclable.
For beauty that lasts, vinyl fencing cannot be beaten. It is commonly available in a host of colors. Regardless of the color or surface texture, vinyl resists fading, chipping, and peeling. Unlike a wooden fence, a well-constructed vinyl fence does not have visible posts and rails; they are integral components of the final installation. Vinyl is also durable. The material will outlast wood by a good number of years. Wood is vulnerable to termite infestation, but vinyl is not. Vinyl is not susceptible to warping, cracking, or wide temperature and moisture extremes. Florida customers tell the experts at Big "Wood"y's Fence, Inc. that the fact vinyl does not rust and only needs minimal maintenance is the primary reason why they chose to have a vinyl fence installed.
Both vinyl and aluminum fence installations are easy to maintain. There is no need to repaint every couple of years. Both materials are impervious to weather extremes. A rinse with clear water every once in a while, is all that is needed to keep the fence looking like new. Although vinyl and aluminum may cost marginally more than wood, they are far easier to install, and most importantly, both materials outlast wood. You can expect to replace a wooden fence, whereas a vinyl or aluminum fence will last for years.